America´s highest healthcare cost of 2016 was a top story for CEO Magazine.
Treating health conditions is the most costly medical condition in the U.S.
1 in 5 adults across the country deals with such conditions.
However, 56% of American adults with the illness did not receive treatment.
The United States spends an estimated $201 billion on disorders like anxiety and depression, but no great progress is seen.
Since 1996, psychological health conditions have spiked and become a challenge for public health.
Only a decade ago, heart conditions cost the US far more than cerebral health disorders, but tables have changed.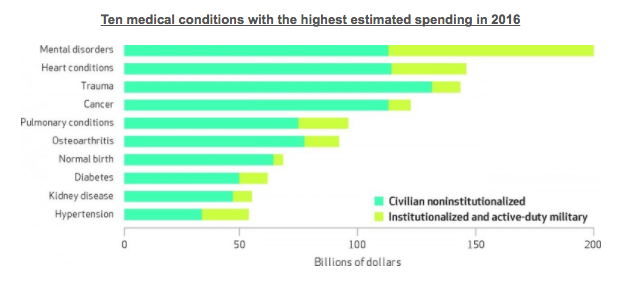 Mental illness in youth is growing
Youth depression increased from 8.5% in 2011 to 11.1% in 2014.
But the real problem comes in treatment, as 80% of youth are left with no or insufficient treatment.
Some states across the country have been cutting back regarding mental health treatment, putting more pressure on a growing issue.
Workplace at risk
In states with the lowest workforce, there is only one mental health professional per 1,000 individuals.
No treatment: More imprisonment
Less access to care is proven to mean a higher rate of imprisonment.
States like Alabama and Arkansas had the least access to care and the highest rate of imprisonment.
Gathering and providing up-to-date data is the best way to take on the increasing risk of mental health.
A matter of public attention
The cases of Chris Cornell, Chester Bennington, and most recently Sinead O'Connor have made the matter take a new flight.
People dealing with this are asking for help, and we must start listening.
With information from HealthCare Recruiters and Mental Health America