AI, sensors, screens… all aboard ships help to avoid collisions over the sea and enhance the passengers experience.
By Oso Oseguera*
While the collision involved a Navy vessel and a commercial tanker, the incident highlighted raised questions about the safety record of Navy ships, since the incident came just two months after seven people were killed when another Navy destroyer collided with a freighter off Japan.
Some cruise ship companies like MSC Meraviglia rides the tech tide to entice young, tech-savvy vacationers to set sail on smart ships.
Imagine a huge boat with more than 4,000 sensors so passengers can see on devices or on a smart wristband, or at 144 strategically place digital screens, what's going on the boat: activities, shows, among others.
Some high tech innovations like facial recognition technology, which is bettering, would prepare crew members to address the passengers by name and know about their interests just with fingertip technology.
High-tech cruise ships attract younger travelers who prefer to spend money on experiences instead of material goods.
These tech-savvy cruisers don't necessarily want to disconnect from their devices while at sea.
A plus for the boat´s passengers
From checking the MSC for Me app for the day's activities to looking at one of the digital screens to scoping out restaurant menus or book a table, passengers can now experience what Luca Pronzati, MSC Cruises' chief business innovation officer, calls a huge paradigm shift in the cruise industry.
Carnival, another cruise company, announced plans to debut shipboard technology later this year on their Princess line, while others like Royal Caribbean provide wristbands that allow passengers to unlock stateroom doors or pay for on-board purchases.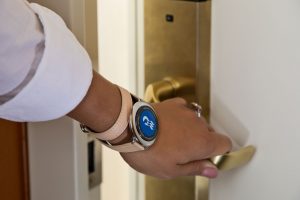 Swiss line MSC Cruises built Meraviglia to help travelers make the most of their vacation time.
For anyone who's ever been hopelessly disoriented on a ship, the MSC for Me app makes navigating a cruise ship a breeze.
Queues at the excursion desk should become a thing of the past as cruisers scroll through options on their cabin television or with a tablet-bearing crew member and sign up on the spot.
Parents can even geolocate their wristband-wearing children among the more than 5,700 passengers.
Through virtual reality before and after the excursion, passengers can deep dive into a destination, learning more about the places they visit.
Technology will offer new experiences… that what it's all about.
* The author is Editor in Chief at Chief Executive Officer North America and Latin America. He firmly believes life is better on a bicycle.