The World Health Organization chief Tedros Adhanom Ghebreyesus asks countries to wake up and consider the coronavirus as public enemy number one.
The phrase public enemy number one denotes something or someone that means a serious threat to the welfare or security of a community or nation, and just like the term was used to designate Al Capone one century ago in the Chicago Daily Tribune, today the world faces a new, different enemy.
The world must "wake up and consider this enemy virus as public enemy number one," WHO chief Tedros Adhanom Ghebreyesus told reporters while attending a news conference on the novel coronavirus (2019-nCoV) in Geneva, Switzerland February 11, 2020. Tedros Adhanom added that "If the world doesn't want to wake up and consider the virus as public enemy number one, I don't think we will learn from our lessons."
Now that the global death toll from the deadly Wuhan coronavirus has topped 900, officially surpassing the 2002-03 SARS outbreak, and companies have begun massive layoffs, with industries desperately looking to shift trends and investments, we start to wonder if we truly are before a new public enemy, one that instead of haunting the streets, it invades our Twitter and Facebook feeds as well as our sentiments on traveling and certain demonyms.
Effects have already been seen worldwide, and especially when China is the European Union's second-biggest trading partner, the world's leading exporter, accounting for a fifth of global GDP, and central to a diverse range of global supply chains. According to the Financial Times, to attend this matter and avoid slowing down productions, China's State Council has urged critical industries — such as aviation — to resume operations as soon as possible. Cities like Beijing and Shanghai have seen their citizens turn to home-office to continue productivity, but companies like electronics manufacturing giant Foxconn have only partially restarted their production. And while these decisions seem logical, the expected delay in getting Foxconn's factories back up and running could reportedly hurt the world's iPhone supply, according to The New York Post. Qualcomm, the world's biggest maker of smartphone chips, has also warned the world population that the outbreak was causing "significant" uncertainty around demand for smartphones.
CNN Business stated that car plants across China have been ordered to remain closed following the Lunar New Year holiday, preventing global automakers Volkswagen, Toyota, Daimler, General Motors, Renault, Honda and Hyundai from resuming operations in the world's largest car market. Luxury goods makers, which rely on Chinese consumers who spend big at home and while on vacation, have also been hit. British brand Burberry has closed 24 of its 64 stores in mainland China.
The struggle has inevitably turned international, and it's now hitting foreign pockets. According to a study by the World Bank, a severe pandemic could cause economic losses equal to nearly 5% of global GDP, or more than $3 trillion. Why? Because as supply chains are diverted and travel methods are cut, the GDP growth of select countries is at risk, especially when uncertainty reigns as there is no efficient flow of accurate information within countries and across borders.
According to GZERO and Bloomberg, countries like South Korea, Brazil, Australia, Indonesia, Japan, Mexico, India, and the US  are among the countries experiencing a slash into their growth forecast for both the first quarter and the full year. China's real gross domestic product is now forecast to grow 5.8% this year, according to the median result in a Bloomberg survey. That's down from 5.9% in January 2020.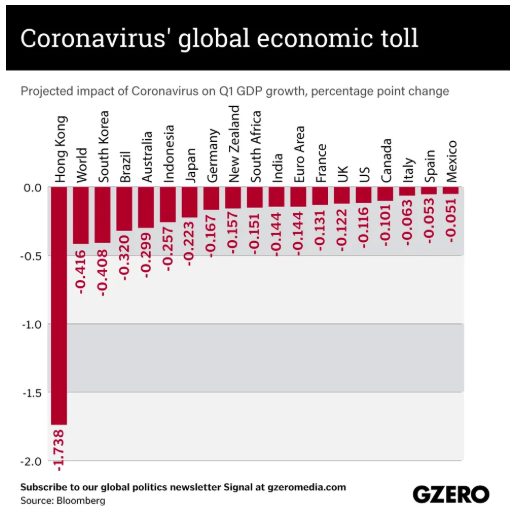 Of course, the tragedy of some is the benefit of others, and some industries are before a big marketing opportunity that can give them a substantial short-term bump. Big drugmakers like Inovio, Johnson & Johnson, Novavax, Moderna, and GSK are all working on coronavirus treatments and seeing their stocks rise as an urgent vaccines or treatment is being awaited, however according to TIME Magazine, health officials say a vaccine version may take three months to be available for the first stages of human testing while developing an effective vaccine generally takes years.
Despite the notorious shifts it has already caused, the outbreak might get "somewhat worse" before it gets better, according to Janez Lenarcic, European commissioner for crisis management, especially in terms of economic aspirations and readiness for the short, medium, and long term.
"With regard to this epidemic, Chinese factories are affected, and that, by definition, affects global chains and the global economy. But our paramount priority should be devoted to public health measures, and the economic consequences are of course secondary, although not unimportant," he said.
Click here to read about the levels of global health security across 195 countries, listing how prepared some countries are when it comes to the ability of responding to an epidemic/pandemic.