Under the leadership of Scott Tarriff, Eagle Pharmaceuticals is changing lives through innovation.
When Scott Tarriff founded Eagle Pharmaceuticals from his home in New Jersey in 2007, he could not have imagined the impact the company would have on the pharma industry—and the secret to its success has been in taking a refreshing approach to drug development and commercialization. Eagle takes existing drugs and reformulates them to improve the treatment of underlying conditions, and develops new indications for previously untreatable conditions; indeed, many of these products and product candidates are life-changing.
"Our thesis is that there are gaps in the way healthcare was, and is, being delivered," Tarriff told CEO Magazine. "This led to suboptimal results. What we have concentrated on as a company is the idea of reformulating existing drugs, and in turn, improving how patients are treated. In many cases, these changes have allowed us to pursue these drugs for indications for which they weren't used previously. And that's something we're very excited about."
Eagle Pharmaceuticals is a specialty pharmaceutical company based in Woodcliff Lake, New Jersey, that is working to advance safe and efficient injectable treatments for patients across oncology, critical care, and orphan diseases. With the majority of its revenues currently based on the groundbreaking cancer treatment drug Bendeka®, which Eagle worked to develop, the company enjoyed revenues of $213.3 million in 2018.
"For us, the key to our success, what's important to our company, is helping patients," Tarriff stressed. "We see ourselves as solving medical problems and at the same time we have a management team and board that is keenly aware of our social responsibility in being a part of the healthcare process."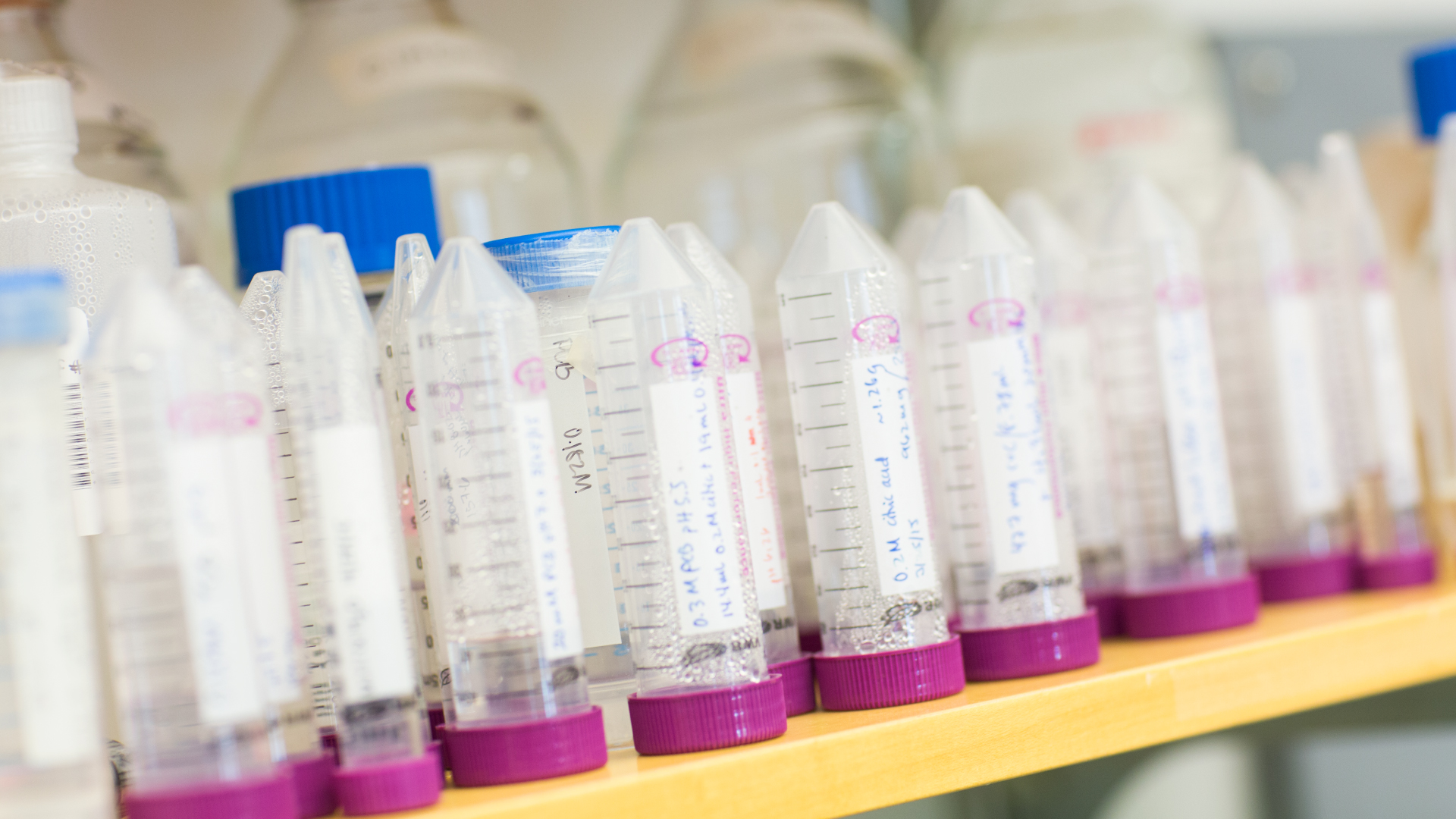 Reformulating existing drugs
The business model Eagle has followed, and which has brought the company such success, has been to take existing pharmaceutical drugs and chemically reformulate them to address shortcomings of the reference product, in many cases producing life-changing results.
"Historically, our business model was amongst the first of its type," Tarriff explained. "When we started, we were the only company focused on reformulating those drugs and changing the way they're used. What sets us apart, the value we have at Eagle, is identifying the problems that patients and caregivers are having."
"We spend a lot of time listening to the stakeholders in the pharma business—physicians, pharmacists, nurses, payers, FDA, and most importantly, patients. We identify the problems with existing products and figure out ways to fix them—that element, combined with the people we have at Eagle, is what really sets us apart."
Changing lives
Eagle has primarily focused on reformulating drugs that tackle rare and critical medical conditions, which are extremely complicated, or delicate, to treat, such as cancer, malignant hyperthermia, nerve agent exposure, and acute radiation syndrome.
"We have two drugs on the market today, one of which is Bendeka®, a chemotherapy drug, which we reformulated so that patients would spend less time in the infusion chair," Tarriff elaborated. "We went from a drug that was infused over 30 to 60 minutes down to just ten minutes. We also developed a drug called Ryanodex®, which is used to treat a rare and often fatal disease called malignant hyperthermia. We were able to reduce the amount of liquid solution that was needed for treatment from 720mL (12-13 vials) down to one little 5mL vial.
"One of the many reasons I believe we are situated well for the future is that we are currently collaborating with the US Department of Defense to develop a drug for nerve agent exposure," he added. "We finished our final study of this drug in May with positive results. Ryanodex is also being studied for acute radiation syndrome and exertional heat stroke. The idea is you reformulate, you make the drug easier to use, with meaningful patient benefits, and potentially execute on the clinical and regulatory process required for approval for indications that didn't exist before."
"We're uniquely positioned going forward because there are numerous situations like this in the marketplace where drugs just need to be improved. And that's where we come in."
An efficient business model
Tarriff's philosophy towards the industry is one based on maximizing efficiency, and partnering with CMO's (Contract Manufacturing Organizations) is a big part of this. The reality is that many of the products Eagle develops, such as oncology products, require very detailed and expensive manufacturing processes, making successful strategic partnerships a crucial element of the company's success.
"It really wouldn't have been possible for us to raise the money to build our own manufacturing facilities, so we license out and work very closely with our partners," Tarriff explained. "The same holds true for the technology we use. We're really good at identifying problems, understanding how drugs are developed, and fixing those problems. But the conclusion we came to years ago is that we didn't need to own the manufacturing facilities."
Two of Eagle's key strategic partners that Tarriff believes have made the above possible are contract manufacturer, BSP Pharmaceuticals, based in Italy, and Teva Pharmaceuticals, which handles the marketing and sales of Bendeka®.
"We have smart, experienced people in our company that know how to effectively outsource and manage relationships," Tarriff highlighted. "We have about 100 employees. Fifty of them work on the commercial side, and the majority of the other 50% are in R&D. When you're developing a pharmaceutical product, you need API and a site to manufacture finished product. Our philosophy is to hire the best and brightest in the industry to find and source the best strategic suppliers around the globe."
Crucial partnerships
Tarriff used the example of the development of the chemotherapy drug Bendeka® in partnership with Teva Pharmaceuticals, with whom Eagle has been working since 2015, to illustrate the benefits of such relationships.
"In this situation Teva was marketing Treanda® which required a 30-60 minute infusion time for patients," Tarriff explained. "They saw the advantage of our 10-minute version (Bendeka®). So, instead of commercializing on our own, we decided to license it to them. That was great for both companies. Now it's the leading drug for certain types of cancer in the US. We're responsible for the manufacturing; Teva is responsible for sales and marketing."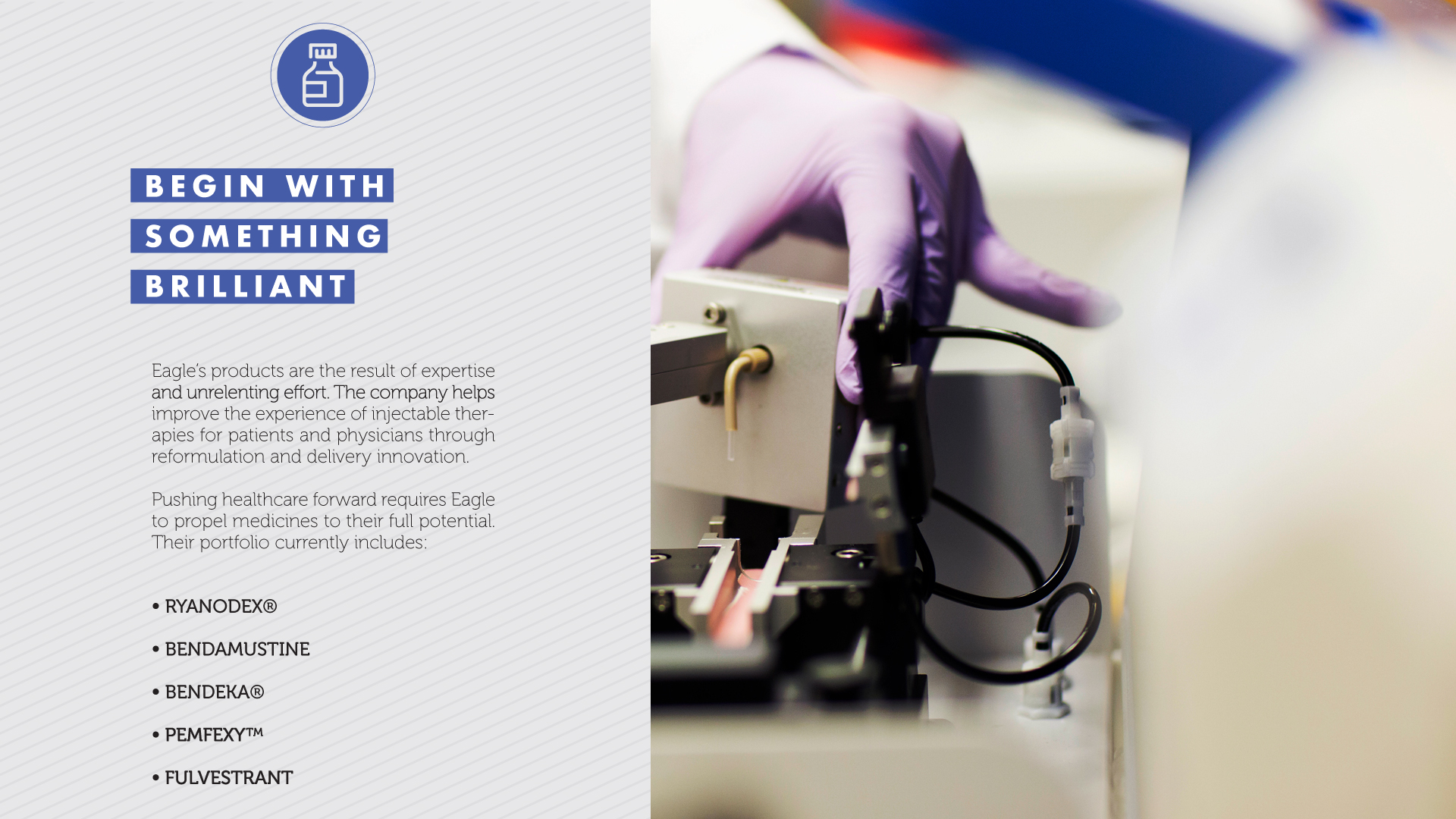 INNOVATING THROUGH PASSION
Tarriff believes that through a combination of passion for the industry, collaboration with other innovative companies, and a deep desire to solve medical problems and help patients, Eagle will continue on the successful path he and his staff first began to build twelve years ago.
"Fortunately, we're a profitable company which has managed its balance sheet really well," Tarriff said. "Our 5-10 year plan anticipates solid growth continuing."
"We also continue to have a significant number of ideas on how other pharmaceutical products could be improved," he insisted.
"We're putting 20-21% of our revenue into R&D, so we have plenty of capacity and ability to acquire programs, assets, and continue to develop improved medicines within the company. We're just really excited about the projects we're working on to improve patient care."